Project Info :
Category :

UX/ UI design

Role :

Senior UX

Field :

Telecommunication

Website :

Digital service portal

Introduction
As a Senior UX Designer at Ericsson, I had the opportunity to work on the design and development of the Ericsson Digital Services Portal (EDSP). This portal aimed to provide Ericsson customers with a comprehensive "as a Service" operations dashboard to monitor and manage their cloud services. The objective was to create a cohesive and user-friendly interface that met the service management requirements of both Ericsson and its customers.
Problem statement
Ericsson recognized the increasing complexity of network management and the need for sophisticated analytical and management tools to meet the demands of customers. The existing tools and interfaces did not provide a unified and streamlined experience for customers to monitor and manage their cloud services. The lack of a comprehensive operations portal hindered efficient service management and customer satisfaction.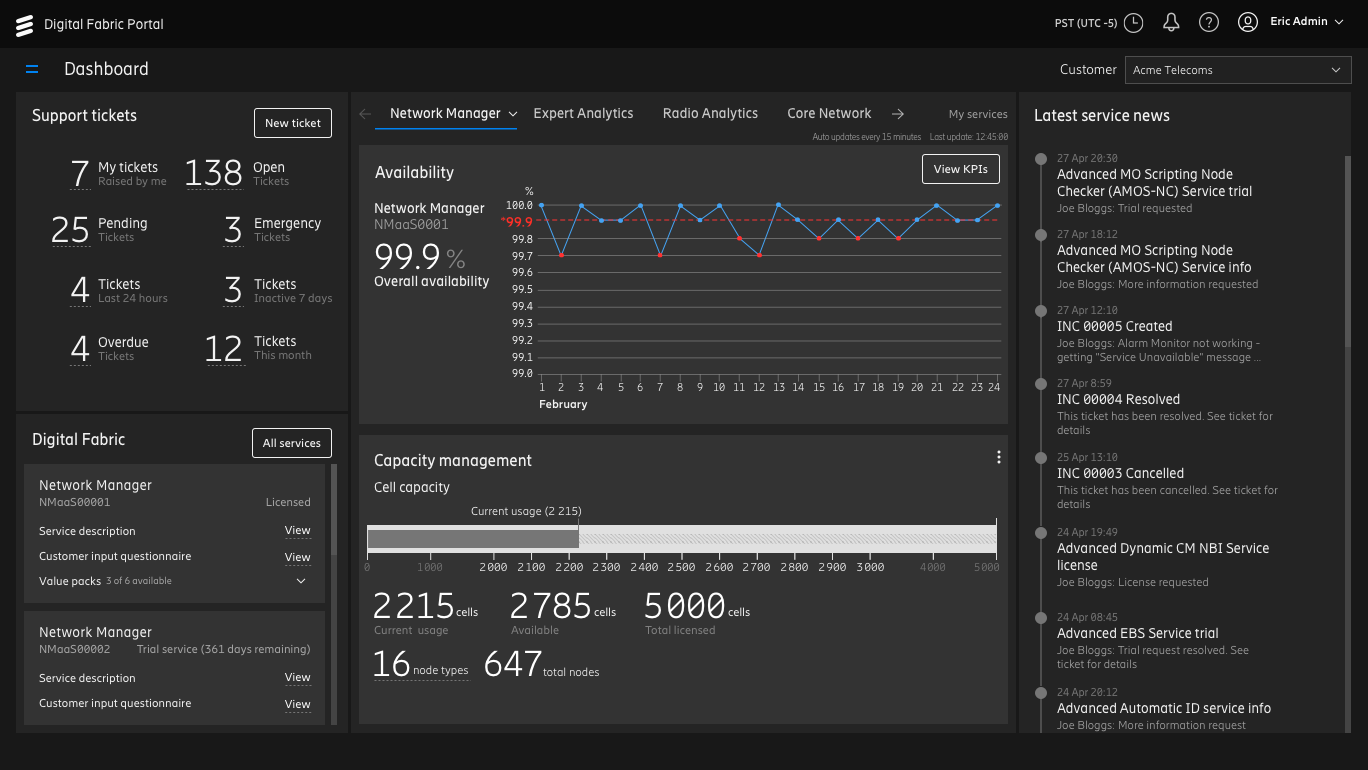 Unified and user-friendly interface for customers to monitor and manage their cloud services.
◼ Implement intuitive data visualization techniques to present complex network management data in a visually appealing and easily understandable manner.
◼ Ensure the EDSP design is responsive and accessible, allowing customers to access and manage their cloud services seamlessly across different devices and assistive technologies.
◼ Incorporate real-time notifications and alerts to proactively inform customers about critical updates, service disruptions, or important events related to their cloud services..
Provide an "as a Service" operations dashboard that meets the service management requirements of both Ericsson and its customers.
◼ Enable real-time monitoring and reporting capabilities within the operations dashboard, providing timely insights and analytics on service performance, usage, and key metrics.
◼ Implement role-based access control and permissions within the dashboard, ensuring that users only have access to the information and functionalities relevant to their roles and responsibilities.
◼ Continuously gather user feedback and conduct user testing sessions to iterate and enhance the operations dashboard based on user needs, preferences, and evolving service management requirements.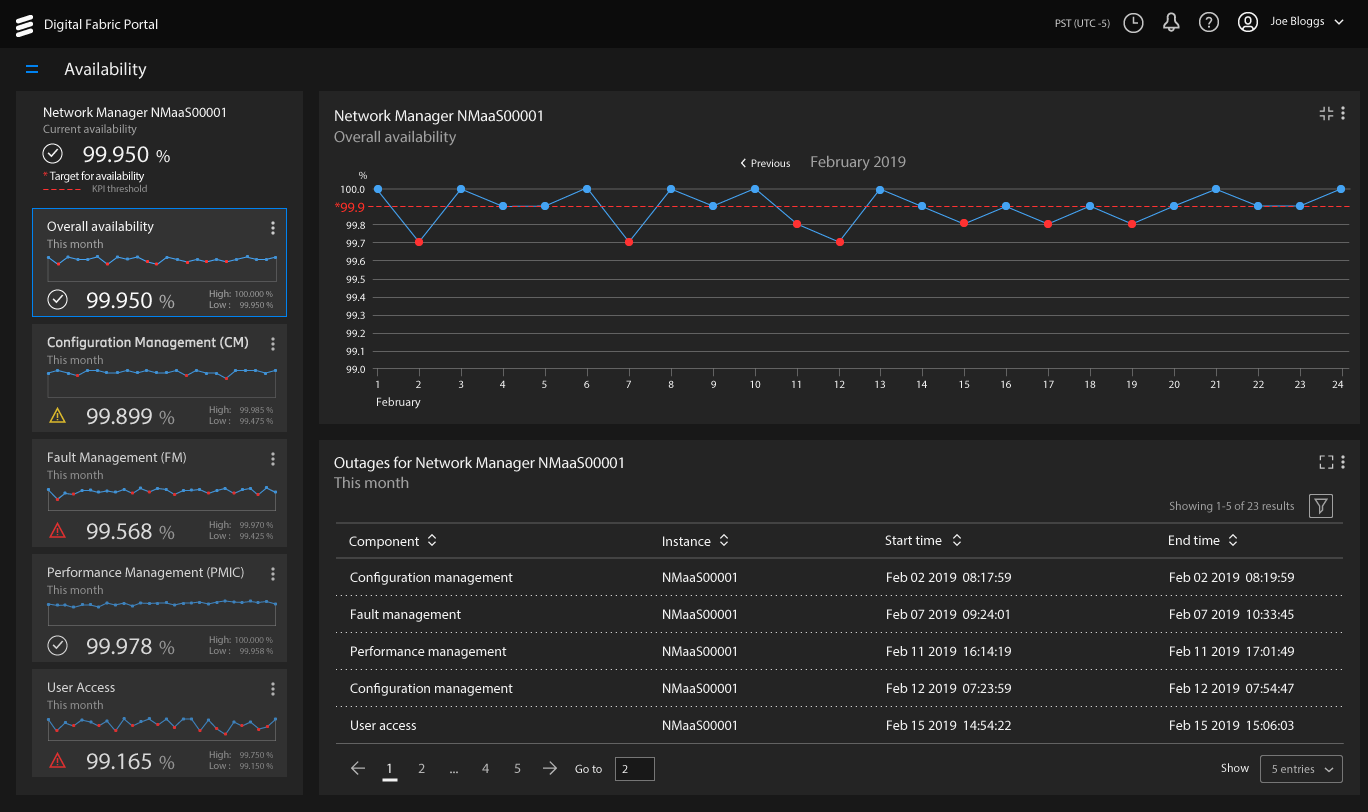 Reporting and resolving outages by open support tickets.
◼ Collecting feedback on support operators and implementing a Net Promoter Score (NPS) system at the end of every ticket.
◼ Allowing customers to provide detailed information about the outage, including relevant logs, screenshots, and other necessary data for efficient troubleshooting.
◼ Analyze the feedback collected through the NPS system to identify trends, patterns, and areas of improvement in the support process, enabling proactive measures to enhance customer satisfaction and optimize support operations.
Research
To ensure a user-centered design approach, extensive research was conducted throughout the project. The research activities included:
Organizing usability testing sessions with local employees and customers to gather feedback and iterate on the designs within the Agile sprints.
Setting up test stands at Ericsson offices and the annual Ericsson Tech Day to further increase usability testing and gather insights from a wider audience.
Analyze customer support tickets and service logs to identify recurring issues and pain points, informing the design of the EDSP to proactively address these challenges.
Perform usability benchmarking against similar enterprise portals, measuring the ease of use and efficiency of tasks performed within the EDSP compared to competing solutions.
Usability testing
Showcase the product while collecting user feedback
We incorporated usability testing as an integral part of our agile methodology. By conducting usability tests on the features designed in the previous sprint, we were able to proactively identify and address approximately 70% of the usability issues before the designs were handed over to the developers.

We implemented a guerrilla usability testing approach, leveraging local employees to participate in these sessions. This enabled us to quickly iterate and refine the designs based on real-user feedback.

During the annual Ericsson Tech Day we conduct a large-scale usability test. On this occasion, we deployed a branch of our product where we replaced all the network-related terminology with a monkey metaphor, such as "banana network". This creative approach helped engage users and fostered a relaxed and playful atmosphere during the testing.

During the Tech Day, we were able to gather feedback from more than 55 users who interacted with the platform. This usability session provided valuable insights on the user experience, highlighting a broad range of usability issues and areas for improvement. Furthermore, this event served as a platform to showcase the product to numerous employees within the company, generating awareness and excitement.

KPI
Customer satisfaction scores: measured through post-launch surveys and feedback.
Adoption rate of the EDSP among Ericsson customers.
Reduction in customer support tickets related to service management.
Time spenton service management tasks by customers using the EDSP compared to the previous tools.
Design approach
Wireframing: I created high-fidelity wireframes of the new product pages using the Ericsson design system.
User Stories: I wrote user stories to describe features and requirements to the development team, ensuring clear communication and alignment.
Quality Assurance: I analyzed the quality of the output generated by the developers and performed QA checks to ensure the designs were implemented correctly.
Presentations: I presented the designs in front of stakeholders and management to gather feedback and ensure alignment with the project goals.
Conclusion
The Ericsson Digital Services Portal (EDSP) was successfully designed and developed to address the challenges faced by Ericsson customers in managing their cloud services. By following an Agile project management methodology and conducting extensive research and usability testing, the EDSP achieved its objectives of providing a unified and user-friendly interface for service management. The KPIs defined for the project will continue to be monitored to track the success and impact of the portal on customer satisfaction and operational efficiency.