Project Info :
Category :

UX/ UI design

Role :

Senior UX designer

Field :

Virtual events

Website :

Vstage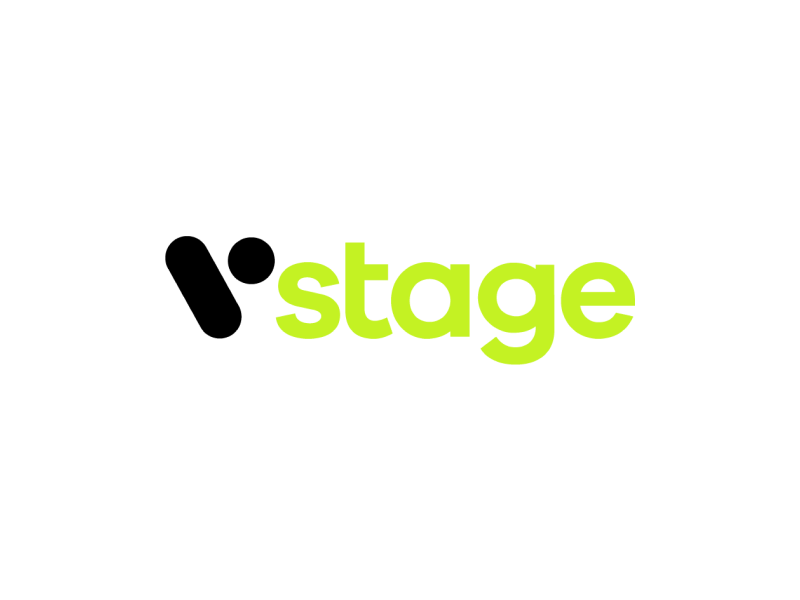 Introduction
Vstage is a startup focused on creating a platform for hosting virtual events. As a Software as a Service (SaaS) platform, Vstage caters to companies, festivals, and associations looking to host virtual events. In 2021, I joined Vstage to design end-to-end features, develop early product concepts, and drive product growth.
Problem statement
The main challenge was to design the next generation of virtual events that are personalized, user-friendly, and engaging. With the event industry transitioning to virtual platforms due to COVID-19, our aim was to replicate and enhance the experience of in-person events.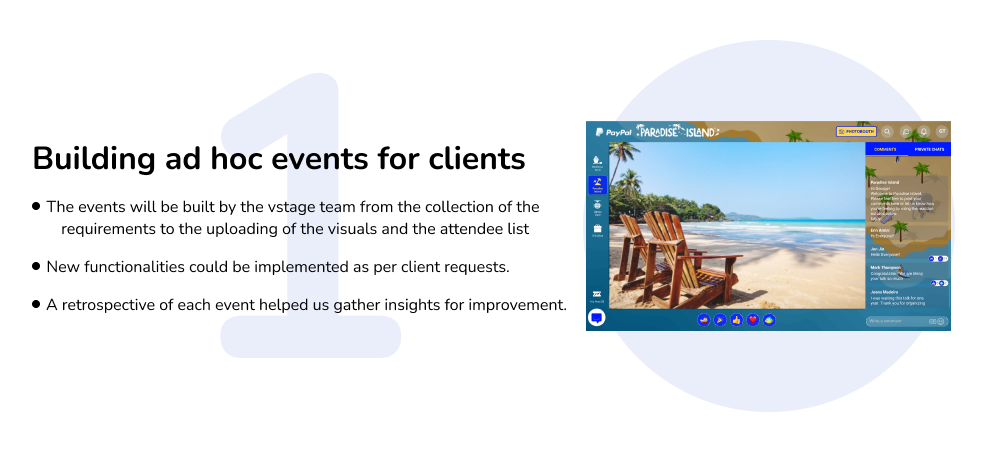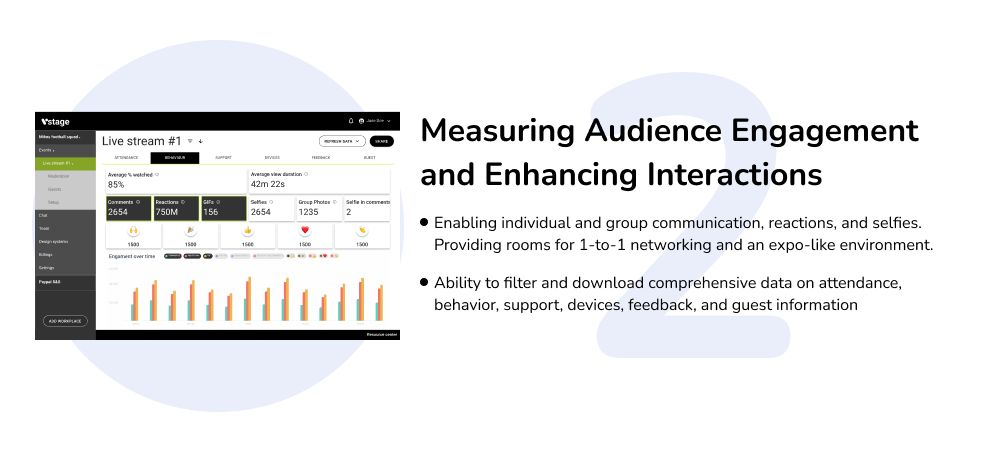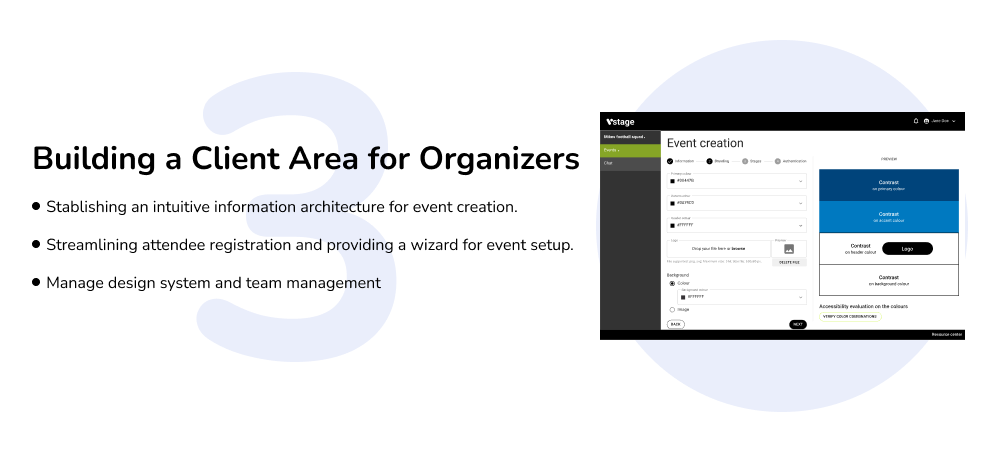 Research
Reviewed whitepapers from 2020/21 that analyzed the event industry during the pandemic and its future evolution.
Explored virtual event statistics and insights from industry reports.
Conduct user interviews
Competitive Analysis
Identified gaps in main competitors like:
Data trust
White-label platform
Customer support
Users data and reporting
Technical issues
User Interviews
I interviewed 15 event organizers to collect insights and perspectives. I delved into their experiences in organizing online events, examining the various steps involved, challenges encountered, desired improvements, and methods used to gauge success. Three main themes emerged during the interviews:
Needs: Organizers desired a white-label platform to manage collaborators and brand assets effectively.
Reporting: Existing platforms lacked a streamlined process to generate comprehensive event reports. Organizers struggled to consolidate data from multiple sources within the platform.
Quality Assurance: Importance of prototype testing and verifying the platform's functionality before events.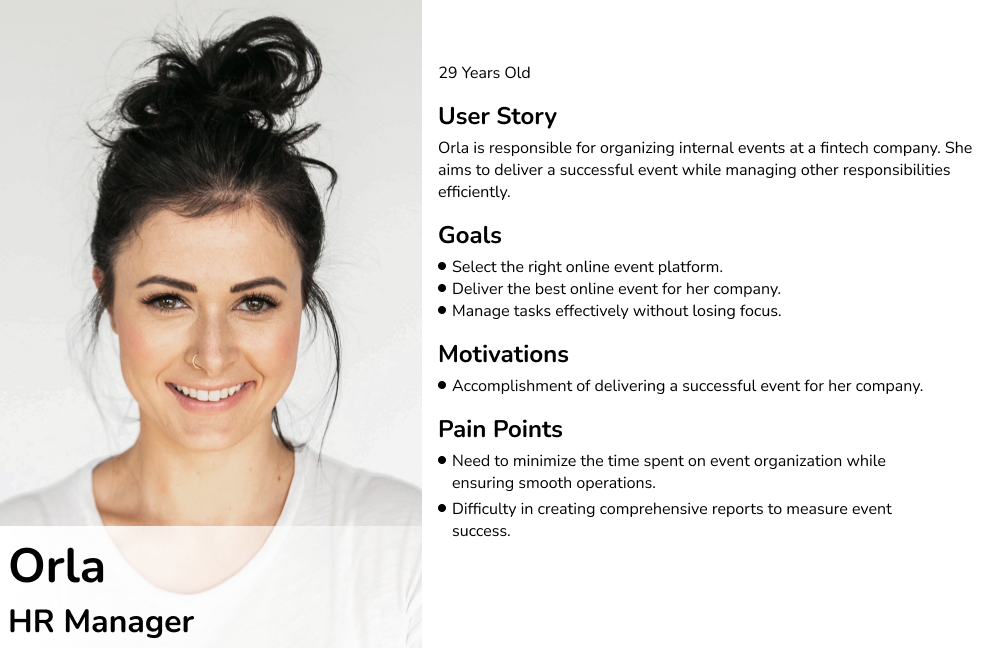 KPI
Event Setup Time: Average time taken to set up an event
Support ticket creation: Ratio attendee and support ticket created
Registration-to-Attendance Ratio: The percentage of registered attendees who actually attended the event.
Attendee Engagement Rate: The level of engagement and interaction from attendees during the event (measured by factors like chat messages, polls, questions asked, etc.).
Event Dropout Rate: The percentage of attendees who registered for the event but did not attend or dropped out before its completion.
Post-Event Net Promoter Score (NPS): A customer satisfaction metric that measures the likelihood of attendees recommending the event to others.
Design approach
Initially focused on creating events for clients, aligning UI elements with client branding.
User personas, user journey, competitor analysis, analytics analysis.
Conducted client interviews to prioritize new functionalities.
Later shifted focus to a self-service platform where organizers could build their own events.
Information architecture, design system, prototyping.
Client Area prototype